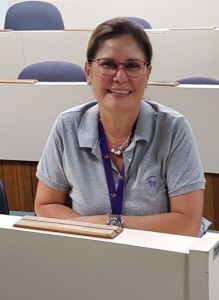 The story of the company goes back to 1987 when I left my full-time job as a result of an illness. Some friends of mine came to talk to me about forming an employment agency, and even though I knew nothing about the business, I was very enthusiastic about the idea, so I agreed to start a business.

The company we formed was called Contrata S.A. de C.V., and it operated between 1987 and 1990. We started with the very basic types of work in El Salvador. To get started, we had to go to the Ministry of Labor to find out how we could charge our services, either to the company or to the applicant. I found out that it was illegal to charge the applicant, so this service had to be paid by the contracting company.

We were the first company in El Salvador to operate this type of business. I learned a lot from these early experiences, and I have been able to put this knowledge to work in my present company, Latin Top Jobs.

These early experiences have served me well to become a successful person and to make my business grow. I learned about the importance of finding out and identifying the needs of my client. I learned about the importance of offering the client alternatives. I also learned to sell services, because in previous jobs I had worked in the financial area and knew little about the marketing aspects of business.
At the end of the 90's I had to make another important decision in my life. I decided to start my own company–Regina Andreu y Asociados, S.A. de C.V.–and I created the Preselección Empresarial brand. I began this adventure when my son was only 8 months old, but I was guided by God's hand then and He has always helped me on the long journey I have traveled up until today. My mother and my aunt also gave me a lot of support. They also contributed a modest amount of capital, which I used to start the business. I also was able to buy a computer. My first office was located in my dining room, and I received my clients in the garden and living room. I also had the unconditional help of my brother Luis in all areas of technology. He had supported me back in the days of Contrata and he continued to be at my side throughout his life.

Preselección Empresarial was established during the last years of the armed conflict in El Salvador. I can remember the helicopters hovering over my home office and shooting away in another direction. I had to move around even when there were demonstrations and riots, because I had to deliver information to my clients. I also lived through the energy rationing times, when our working hours were from 4 pm until 10 pm. These were difficult times, where having a telephone line was a marvelous thing to have and to own two telephone lines was an exceptional situation. At that time, the mobile phones and the Internet did not exist; the radios were huge and very expensive. The internet appeared after using large desktops with floppies and small hard disks. This was a fantastic time for me. I remember that everyone at the office would take special computer classes. The demand for my services was growing beyond the borders of El Salvador. I had to travel constantly and I often had to leave my son alone for several days at a time. This, together with the need to satisfy my clients' needs, drove me to open offices in all of the Central American countries.

I began opening branches throughout Central America in 1996. This lasted until 2001. Time went by and El Salvador was seriously struck by earthquakes. The attacks of September 11th affected the whole world. These were all very difficult moments, but with God's help we overcame this situation with our hard, tenacious and constant work, and our desire to offer quality services to our clients. By 2001 we had already moved our offices four times. Our moves were due to our growth, and the demands of our clients obliged us to look for more office space.

In 2003 Latin Top Jobs moved to our present offices and I hope and expect we will be here forever. The clock continues to tick by and now we have entered into the Globalization Era. The world has begun to change, the companies have started to demand new job positions that we had never heard of before, positions such as Market Intelligence Manager, Corporate Relations Manager, International Logistics Director, Retail Manager and others. We needed to look for applicants with experience in these areas and this was unknown in Central America. Our clients were then asking for applicants from South America and Mexico. I felt disappointed when my answer was "no, sorry we don't have this type of person with that expertise". The company already had an excellent, solid and professional working team. We had become established as a point of reference in recruitment and personnel selection services.

Our success, in addition to the new requirements and demands from my clients, resulted in a re-engineering process of the company, which would allow us to open up to new opportunities and further expand our operations. I thought that the company had to be reborn in order to face the new globalization events that require us to cover not only Central America, but the entire Latin American region. A lot of hard work has been done, to create an enterprise that will allow us to be highly competitive, taking advantage of the 20 years of accumulated experience from Contrata to Latin Top Jobs.